Building an inground pool in your backyard is easier and more affordable than ever before.
A pool adds beauty to your property, helps you relax and stay in shape, and also provides a place to entertain family and friends. Even small or odd shaped backyards can fit a customized pool.  This perfect pool setting is a wise investment and has proven to increase the value of your home.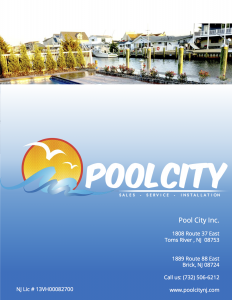 We offer Salt Chlorine Generators, which turns salt into chlorine right in your pool. Electronic chlorine generation is the easiest, most effective and convenient way to keep pool water sparkling clean. The IntelliChlor Salt Generator uses common table salt to produce all the chlorine your pool needs, right in your pool – safely, effectively and automatically.
*Same sanitation performance as manual chlorine addition without the drawbacks
*No more odor, stinging eyes and irritated skin
Backed by 40 years of combined experience, we guarantee that the construction of your in-ground pool will be the most pleasant, smooth process. Our experienced crews pay the closest attention to detail because they are challenged to meet the toughest quality control standards. The New Jersey State Department of Consumer Affairs and the New Jersey Department of Banking licenses us. We also are members of the Better Business Bureau. The result is a worry-free pool that is built to last.