What's hot in the world of inground pools today?
Here at River Pools, we help hundreds of inground pool clients plan and design their dream pools each year.
This allows us to keep a pulse on the options, accessories, and features that are trending in the inground pool marketplace.
And today we want to share this with you!
In this article we're going to take a quick look at four such options that are hot right now.
What pool options are popular in 2020?
Tanning Ledges
Heat/Cool Heat Pumps
Glass Tile
Fire Bowls
Tanning Ledges / Baja Shelves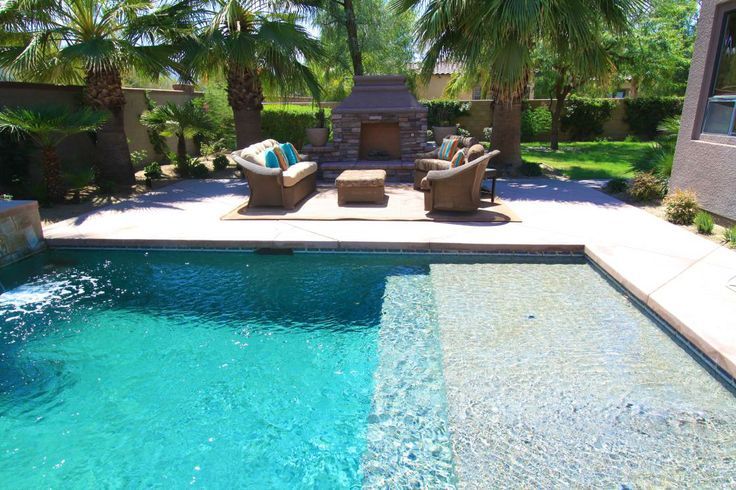 Tanning ledges (also called a Baja Shelves in some regions) are areas in or around the pool with around 12" or less of water.
They are the perfect depth for chaise lounges and allow bathers to stay cool without being totally submerged.
Tanning ledges are also great for smaller kids who would rather not venture out into deeper water for extended amounts of time.
Are Tanning Ledges Available on Fiberglass Pools?
Yes, in fact there are many fiberglass pool designs that have tanning ledges.
Some designs have tanning ledges integrated into the pool like our freeform I Series and C Series of fiberglass pools, our rectangular D Series, and our Roman-end L36 model.
Sometimes tanning ledges are separate, stand-alone units that are mounted poolside.
It is also possible to build custom tanning ledges on fiberglass pools.
Heat/Cool Heat Pumps
Heat Pumps are an extremely efficient type of pool heater that work just like a heat pump for your home.
Some heat pump manufacturers offer heat pumps that cool as well as heat the water.
This may not sound like a big deal at first, but the water temperature in many pools during the hottest part of the summer can reach the mid-90s.
Who Needs Heat/Cool Heat Pumps?
Typically, heat/cool units are very popular with people who have automatic pool covers or with those who have pools exposed to direct sunlight for a large portion of the day.
It's not uncommon to see the water temperature in a pool with an auto cover reach the upper 90's.
You can learn more about how they work and compare to other types of pool heaters.
You can visit Aqua Comfort, our heat pump supplier.
Glass Tile
All concrete pools and many fiberglass pools have a 6-inch-wide band of tile along the waterline of the pool. This material can be ceramic, glass, or stone.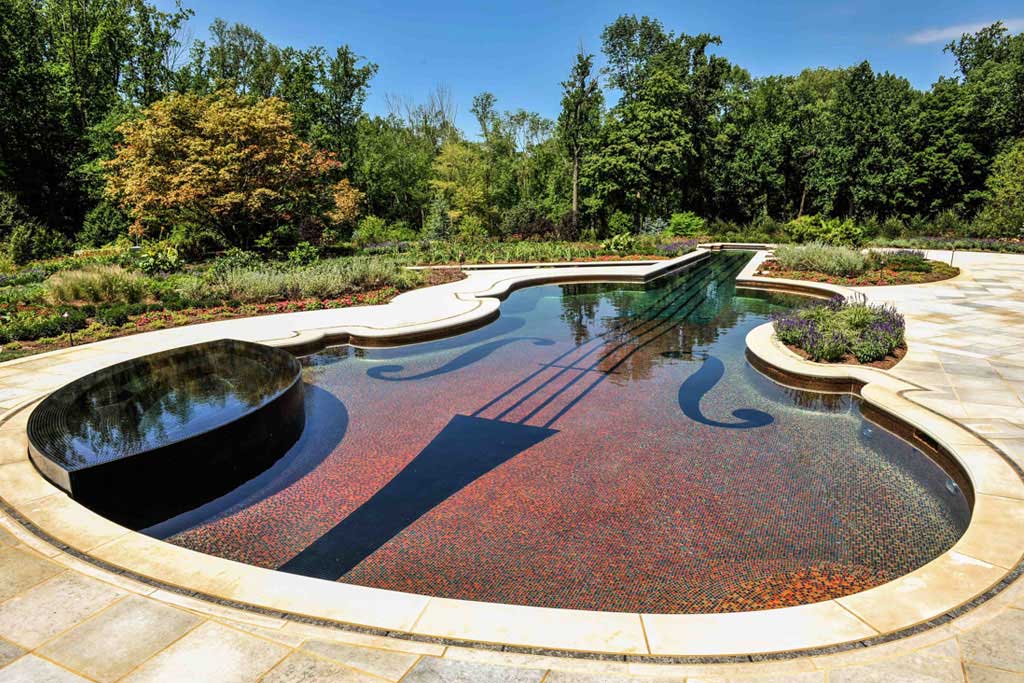 Waterline tile is required on concrete pools to prevent staining the surface of the pool.
Waterline tile can be added to fiberglass pools for aesthetics. It's not required because the gelcoat surface of the pool is incredibly durable.
Glass tile is made of small squares or rectangles of colored translucent glass glued together on a 12"x12" sheet. The sheet is divided in half and applied to the pool.
It is available in a myriad of colors. Its stunning appearance is no doubt why it has become so popular.
Fire Bowls
As one of the hottest (couldn't resist) inground pool accessories in the market today, fire bowls are a high-end feature that grab everyone's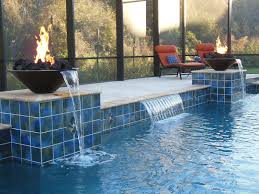 attention.
They typically cost between $6,000 and $9,000 a piece, including installation.
Fire features require a lot of planning so be sure to discuss them with your builder early in the design process if possible.
Well, there you have it. Four pool options that have people talking.
As always, feel free to leave a comment below.